Mouth-Watering Honey BBQ Beef Back Ribs
These are the most amazing, fall off the bone, finger-licken' good ribs that you can make at home! 

These are the most amazing, fall off the bone, finger-licken' good ribs that you can make at home!
Garden herb spice rub, slow-roasting and homemade honey bbq sauce are the secrets! Finish the ribs out on the grill, turn up the music and get ready for an absolutely satisfying dinner!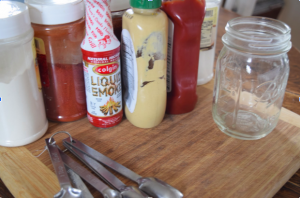 I like to get started with the honey barbeque sauce so it has time to sit and this allows the flavors to meld together. Play with the ingredients to your liking! Maybe you want to spice up your sauce with chopped green chile or sweeten with mango or pineapple.
Making your own bbq sauce is really fun actually! I have been playing with the amount of worcestershire, liquid smoke and apple cider vinegar to give it the perfect tangy, sweet, spicy combination that we all love!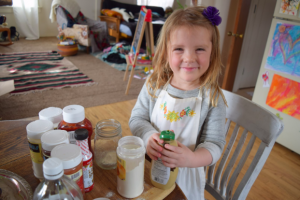 Hey why not include a little helper! Little Charlie loves to measure out the ingredients, mix it all together and of course be the taste tester!
Here's the recipe. Let's get cookin!
Ingredients:
2-3 lbs Sweet Grass beef ribs
Homemade Honey Barbecue Sauce:
2 tsp onion powder
1 1/4 tbsp dijon mustard
1 cup Ketchup, organic
1 tsp liquid smoke
2 tbsp Worcestershire sauce
1 tsp Black pepper
1/4 cup honey
3 tbsp brown sugar
2 tsp Paprika
1/4 cup apple cider vinegar
Special Dry Rub:
1 tsp kosher salt
1 1/2 tbsp pepper
1 tsp onion powder
1 tsp garlic powder
1 tsp cumin
1 tbsp paprika
3 tbsp brown sugar
Instructions:
Rinse and dry the ribs.
Coat lightly with olive oil and massage dry rub into the ribs until fully covered.
If you have time, let the ribs marinate in the fridge for up to 1 to 2 or up to 24 hours.
Preheat the oven to 250 F.
Place the ribs on a baking sheet in a pouch of foil to lock in moisture.
Bake for 3 ½ to 4 hours and drain any excess fat. Smother with your homemade bbq sauce.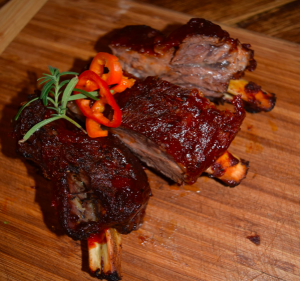 Finish the ribs off on the grill while brushing on more bbq sauce!
Serve hot and enjoy!
Share this with your friends and cook up something good.