Better for the earth. Better for you!
Sweet Grass Cooperative is a collaborative of family-owned ranches located in Colorado and New Mexico. Our specialty is providing the healthiest, tastiest, most sustainably raised grass-fed beef in the Intermountain West.
When you buy grass-fed beef from Sweet-Grass, you're buying more than just meat. In adhering to our very high standards for producing beef, we provide a product that's good for the earth, good for your health, and wildly delicious.

Do you know where your beef comes from and how it was raised? Sweet Grass connects you with the source of your food, giving you the comfort of knowing exactly what you're eating.
The abundance of claims and certifications slapped onto food labels needs to be more than just words: they need to be practiced daily on the ground by people who raise food. When Sweet Grass says its beef is grass-fed, we really mean it. Our grass-fed protocols are based on university research into the health benefits to cattle and therefore, to you.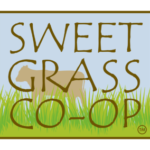 Sweet Grass Cooperative ranchers buy hay from local farmers, lease ground from local landowners, employ local help, utilize and support local butchers- all putting money back into our community.